We transform Field Service Management into a CO2 negative process
Deeply rooted in our long-standing sustainability record, our commitment in leading a CO2 negative future is integral to our mission.
Research for a better future
We heavily invest in research with a strong focus on upscale technologies with a drastic impact on CO2 reduction. While there are only a few researched and valid methods to impact CO2 negativity we want to be on the front lines and support leading scientist and projects.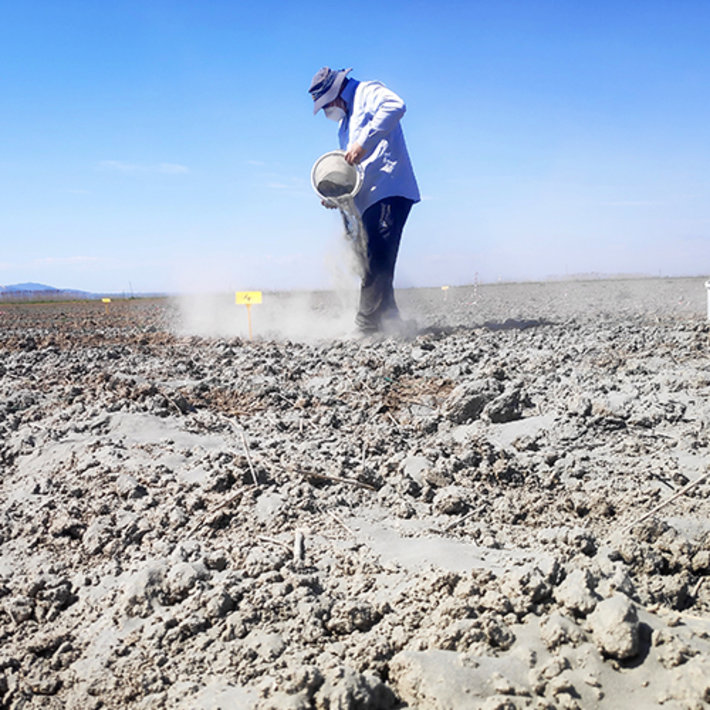 The Olivine project
The focus of our scientific work lies in the method to enhance the natural weathering process of the widely available mineral olivine.
In the presence of water and CO2, olivine breaks down and transforms carbon dioxide into stable building blocks for limestone rocks. This process is fundamental in the earth's natural ability to cycle CO2 between land, oceans and the atmosphere in order to keep our climate stable. To tackle the large volumes of human CO2 emissions, however, this slow natural weathering process needs to be sped up.
We are actively running a project to scale up the natural weathering process of olivine to be applied for significant CO2 reduction. In cooperation with "Carbon Drawdown Initiative Carbdown GmbH" we investigate how enhanced weathering of olivine can remove CO2 from the air in agricultural settings across Europe.
With our investment in this project we are working towards capturing CO2 from the atmosphere by measurements of tons, rather than kilograms.
Our cooperation with Project Vesta
Project Vesta is a carbon dioxide removal project lead by a team of scientists and entrepreneurs, with expertise in the fields of marine biology, geochemistry, ecology and olivine weathering. Their mission is to advance the science of Coastal Carbon Capture to help reverse climate change, by speeding up the natural process of weathering, in which the mineral olivine captures CO2 from the air and reduces ocean acidification. Project Vesta does this by harnessing the power of the oceans to remove excess CO₂ from the atmosphere in a human-relevant timescale. Through our partnership with Project Vesta, we aim to contribute in expanding their scientific work on accelerating this natural process and support its deployment on a global scale.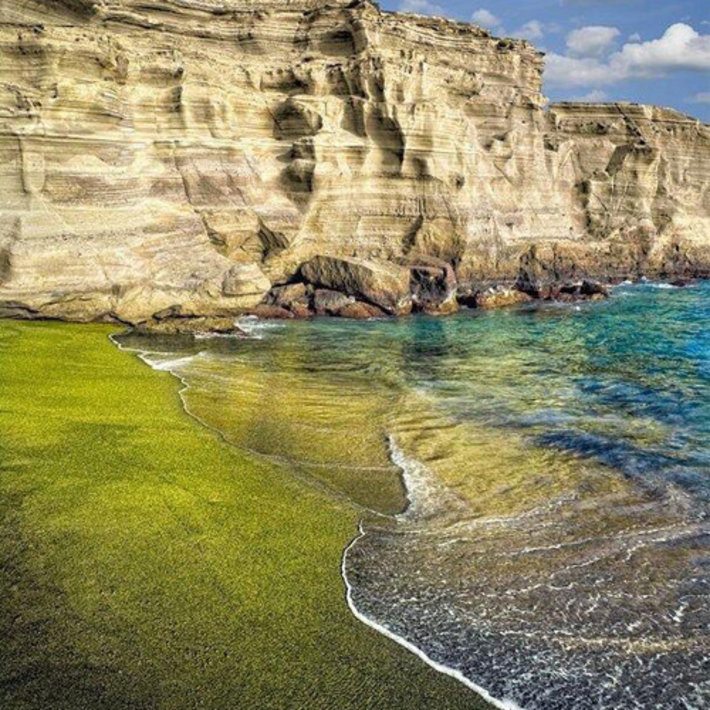 The Importance of Coastal Carbon Capture
Project Vesta aims for the worldwide deployment of Coastal Carbon Capture using the abundant mineral olivine. Besides speeding up CO2 capture through wave action in order to mitigate climate change, this process also help reverse anthropogenically induced ocean acidification. The process is a nature-based, permanent, scalable, and affordable solution to climate change. Utilizing only 0.25% of earth's shelf seas, Project Vesta could remove 1 Gt of CO2 from the atmosphere.

We are founding member of Negative Emissions Platform
Negative Emissions Platform is a newly established Brussels-based trade association working across geographies and industries to deliver the right regulatory and financial framework for the deployment of a portfolio of technologies that permanently removes CO2 from the atmosphere. For example enhanced weathering, bio-energy with carbon capture and storage, various applications of biochar, or the use of special devices that capture CO2 directly from air. As a member of the Platform, we aim to contribute to the common goal of developing hybrid approaches with a potential for permanent removal of CO2.
Direct air capture project
Direct Air Capture (also called carbon capture storage) is an exclusive 3.5 year technology cooperation project between RMIT University in Melbourne and Fieldcode that aims to develop a technology that reverses the burning of fossil resources from the past. CO2 from the air is converted back into coal, which can be safely returned to the ground. This would close the natural cycle without causing additional emissions.
Our goal is to enable the scaling of the output from current grams to tons – so we achieve a drastic result faster and can contribute to a healthier environment faster.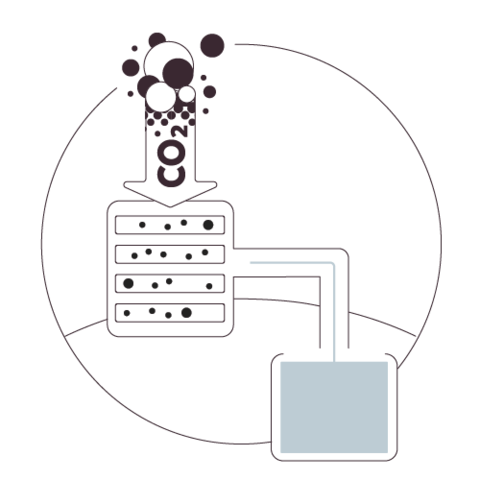 Acting today for a better future!
Our forestation project in Zimbabwe
We know that we will get to our mission's goal soon.
But our planet needs our support now!
Forests are a natural carbon sink that absorbs CO2 from the air through photosynthesis and helps to mitigate the human made greenhouse gas emissions. The captured CO2 depends on the mass growth of the plant. Our calculation is based on a 10% mass growth per year and results of 1,835 kg captured CO2 for each kilo of gained biomass. Internal analysis came to the result that one field service intervention on average emits 12kg CO2, including onsite activity and administrative effort.
Forests are also habitats for many species and are the home of 80% of terrestrial biodiversity. The FAOs states that 75% of the world's freshwater comes from forested watersheds. We make use of these benefits, by planting trees in order to compensate our customers' emitted CO2 and to strengthen poverty-stricken communities in developing countries.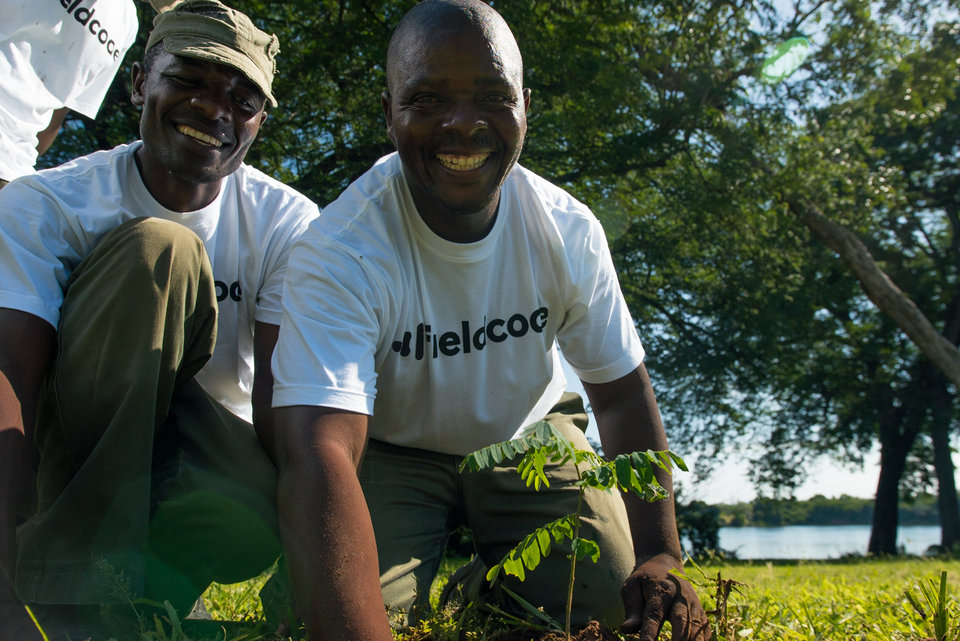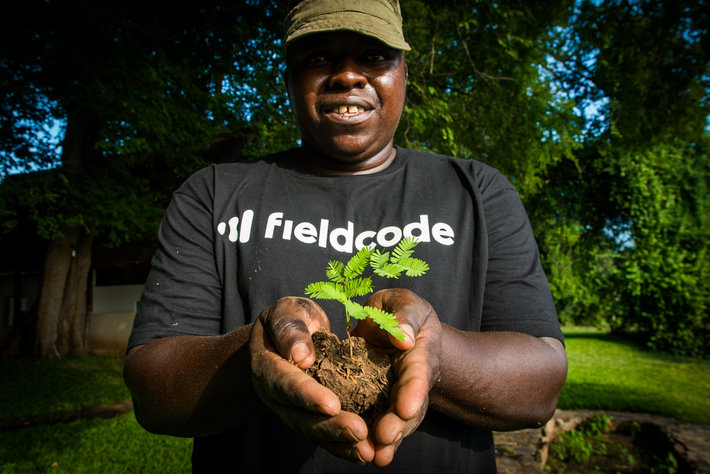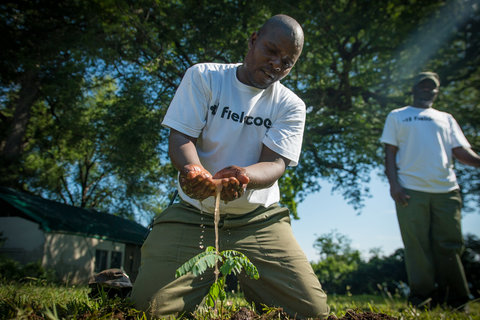 We started our first own tree planting farm - on 800 km²!
It is located at RIFA in the lower Zambesi Valley in Zimbabwe. With our own local teams, we also involve the communities to create a local workforce. This enables them to improve their living conditions and at the same time it ensures the sustainability of our projects.
We focus on new technologies and new science, but until our other projects are fully developed our forests grow tree by tree –with our local communities, our team's voice, and our know-how.