Provide your customers with smart FSM software from Fieldcode
For our partner network we offer you a wide variety of customized resources which you need to increase your revenues, expand your service offerings and help your customers to deliver their field service effectively. Together with you and the understanding of your customers processes, we want to enable you to reach service excellence with a smart and flexible FSM solution.
Partnership Models
Resellers
You are an expert in consulting and distribution of individual software solutions for your clients. While you know how the software landscape of your customer looks like, you are searching for the ideal solution to manage their field service teams.
We help you to grow your business and maximize profitability extending your solution portfolio with Fieldcode and our services. Provide your customers with the smartest FSM solution in the sector.
System Integrators
We help you as a System Integrator to build expertise in the Field Service Management sector through our comprehensive documentation and trainings. We support your own service delivery methodology and expertise with our well-proven implementation methodology and our implementation specialists.
Jointly working with your teams, we support you in integrating Fieldcode for your clients. Through a hands-on approach and continuous training of your integration experts we will ensure your teams rely less on our specialists.
OEM Partners
With our Fieldcode white label offering you seamlessly integrate the full FSM scope into your product and extend your capabilities with minimal effort. Extended API options allow an easy exchange of information and data from and to any enterprise software solution.
Our individualization features grant the look and feel your customers are used to and make Fieldcode an integral part of your software suite. Full support during the integration from our specialists is important and we will provide you with continuous assistance for all product updates and feature releases.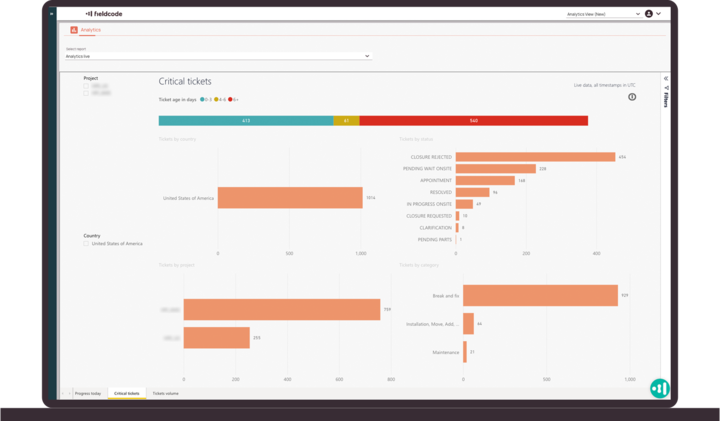 A Complete Set of Benefits
As a Fieldcode Partner, you will receive support during every stage of the customer engagement lifecycle. No matter where you are in your planning, development or delivery phases, you'll have quick and simple access to information and resources.
Onboarding
In order to enable your team to identify opportunities and sell the value of Fieldcode, we have put together a comprehensive, well-structured onboarding program. The program entails joint planning, education, marketing and sales activities during the first 30, 60 and 90 days of our partnership. Successful execution of the onboarding process will ensure a great start to our joint go-to-market.
Access to the Sales Kit and all onboarding materials
Access to demo environment
Initial Sales training
Branded marketing collateral
Targeted Marketing Campaign
Sales workshop
Partner webinar
Joint sales meeting
Go-to-market review
Sales Kit
A key part of the Partner Program is the Sales Kit. This kit is intended to help you gain confidence and a better understanding of Fieldcode. Once your team is trained and ready to go, each member of the team will receive access to both the off-line and on-line versions of the kit, which includes:
Positioning - Presentations about Fieldcode as a company and the products' value proposition, functional overview and more.

Sales tools - Including ROI calculator, qualification questionnaire, battle cards, call scripts.

Marketing Collateral - Brochures, white papers, videos and case studies.
Become a Demo Champion
We believe that partners who are able to confidently present our solutions also have a better chance of gaining a potential client's trust in their expertise and ability to execute. In order to facilitate your team's ability to demonstrate our products, we provide just what it takes to give a "solo" demonstration in a very short time:
Free-of-charge demo license
Pre-configured, ready-to-go demo environment
Detailed demo scripts and supporting commentary and FAQs
Service Delivery Enablement
Training
The technical training program provides your organization with the right skills to successfully manage client projects involving Fieldcode. We provide complete technical training for all partner levels, using on-site, instructor-led and e-learning formats. The technical training includes courses related to implementation, configuration and integration of Fieldcode for your clients.
Ready to connect to our partner program?
Transform customer service from a cost center to a profit generator to help your clients scale.