Year one progress of the Olivine Project to eliminate atmospheric CO2

Reducing CO2 one rock at a time
Did you know rock minerals like olivine have been removing carbon dioxide (CO2) from the atmosphere even before life on Earth began? Over millions of years, Earth has been naturally removing CO2 from our atmosphere through a process which is called weathering. Unfortunately, it is not enough to offset the current carbon overload found in our atmosphere due to human activities. The responsibility for tackling climate change lies within all of us, which is why we at Fieldcode have pledged to our clients to assist them in turning their field service operations into CO2-negative events through climate positivity. In this blog, we provide a high-level summary of our Olivine Project full research report of the progress made in 2021.
Actions speak louder than words
Back in 2020, we launched the Olivine Project as the core of our sustainability mission. In its current state, the Olivine Project examines the potential for large-scale atmospheric CO2 removal with olivine-rich rocks. Our research team is using local resources along with current agricultural methods to investigate the effectiveness of enhanced weathering (EW) in Greece. Specifically, we are attempting to measure the weathering rate of rock dust on farmland and enhance this activity to remove carbon dioxide from the atmosphere on a large scale. For further information on how olivine reduces CO2 from our atmosphere read our blog from our geologist's perspective here.
Worldwide, only a few research programs on the potential of EW in agriculture carry out field experiments. This large-scale gap between theory and experimentation is an urgent call to start performing field experiments and assess climate change mitigation potential with olivine-rich rocks. The Olivine Project is the first of its kind in Greece and a start to bridging the gap.

The experiment
We conducted the first large-scale EW field experiment ever carried out in Greece. The scope entailed learning how to create an optimal environment for the weathering process and measuring the weathering rate. Our research team chose a large-scale cotton field for their EW experiments in Thessaly, surrounded by mountains enriched in olivine-rich rocks, to add olivine-rich rock dust and biochar to the experimental soil. Biochar - an artificially created charcoal - when applied, it can improve soil quality, increase crop yield, and store carbon dioxide for extended periods, packing a bigger punch towards CO2 removal.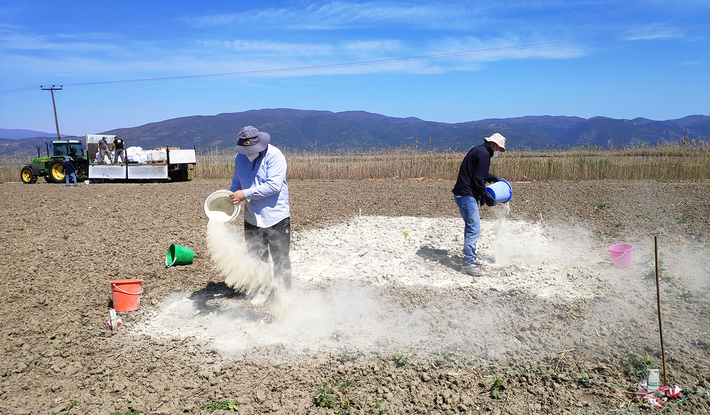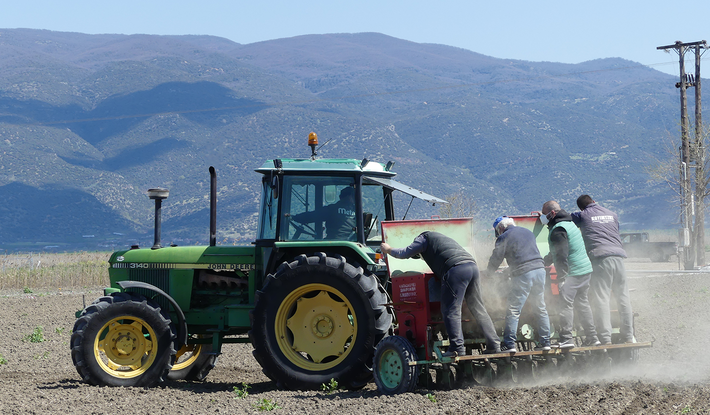 Olivine-rich rock dust and biochar were applied to 32 experimental and 6 pilot plots using two different methods. First, our research team manually spread the rock dust on the designated experimental plots. In the second instance, a wheat-sowing machine spread the olivine-rich rock dust to the designated pilot areas.
After the cotton seeds were sowed, lysimeter and macrorhizon water sampling devices were installed. Lysimeters collect soil water that drains through the mixed soil with rock dust. Macrorhizons extract soil water by placing 'tubes' in the ground and applying a vacuum effect with a syringe to suck up soil water.
Soil, water, plant tissue, and cotton samples were collected throughout the experimental stages to assess nutrient levels and to analyze any effects the rock dust and biochar treatments might have had on the soil, plant, and cotton yield or quality.

Results
Even though there were some challenges, such as seasonal changes, fertilizer addition, and plant interaction, we are happy to announce the following results:
First enhanced weathering effects can be seen six months after applying the rockdust, indicating that results may develop over an extended period.
The olivine and biochar had no negative effects on the cotton crop amount or its fiber quality.
The experiment did not affect the heavy metal intake of the cotton plants.
As a first-time experiment in a cotton field, incorporating field conditions, agricultural cycles, weather conditions, machinery usage, and techniques, our team gained a lot of experience and clarity on how to better proceed with the experiment. These processes, experience, and results will also be used for future projects within the global scientific community.
It was confirmed that there is a big gap between actual field experiments with real-life problems and theories. Although fieldwork is more complex than lab work, there is a greater need for research teams to go out into the fields and see what works and what does not work.

Next phase
Moving forward to year two of the Olivine Project, we are continuing with the enhanced weathering experiment in the cotton field to monitor longer-term results of CO2 removal and its effects on crops, water, and soil.
We will therefore continue the two sub-experiments: one in which we manually distribute the rock dust and the other in which we distribute the rock dust using farming machinery.
In year one of the experiment, we used mafic (Basalt rock) and ultra-mafic rock dust (rocks from different countries). Moving forward, we will only use ultra-mafic rocks from Greece, and biochar is no longer needed since it is still in the soil.
We will also start a second experiment with alfalfa plants. We chose alfalfa because only the top part of the plant is periodically harvested over multiple years resulting in minimized disturbance to the soil and field equipment. Alfalfa enhances the weathering of minerals in the soil through substances excreted from its roots, and it's one of the few commercial crops that do not need nitrogen fertilization (which causes environmental problems). In addition, its all-year-round protective canopy helps prevent soil erosion.
This new project with alfalfa will take place at the Institute for Industrial and Forage Crops (IIFC) in Larisa, and for good reasons:
Better soil for enhanced weathering, and our research team will use higher concentrations of olivine-rich rock dust.
A less complex agricultural cycle results in minimized disturbances to the soil and root system.
Sensors and equipment put into the field can remain in the soil for 2 to 3 years allowing for continuous monitoring of data and no interruptions to the experiment.
We will have complete control over the management of this field experiment. So, we will choose not to use any chemical fertilizers or pesticides, which can interfere with the weathering and affect results. We can also irrigate as much as is needed for the crop and the enhanced weathering process.
Our team will continuously have access to IIFC colleagues' expertise in growing alfalfa and assistance in executing its agricultural cycle.
Having opened the door to enhanced weathering in field experiments, we eagerly await to see how enhanced weathering brings us closer to climate positivity as we start to close the gap between how nature works and the way people work.
Want to discover more about our Olivine Project and how our software can help promote a cleaner future for field service?
Contact our team for a free demo and learn how we can help optimize your field service operations with a CO2 impact at no additional cost. Or check out our webinar on field service management for climate positivity.