Mobile tools and their positive effect on customer success
One of the highest-ranking challenges for field service organizations is meeting customer expectations. Customers' expectations continue to evolve with their attention to technology and demand for fast, reliable support. Field service technicians are typically the customer's only direct contact with a business. As a result, the customer's experience is crucial to customer retention, brand loyalty, and business continuity.
Field service organizations that understand this and center their field service around customers will prosper within their industry. 90% of consumers identified customer service as a factor in deciding whether or not to do business with a company, and 86% of buyers said they are willing to pay more for a great customer experience.
Going above and beyond customer demands is possible. Exceptional customer service can easily be delivered by leveraging mobile technology which in turn supports effective and profitable interactions between field service technicians and customers. Through smart mobile solutions, businesses can start delivering the service customers crave, access to information, and field service experts they need.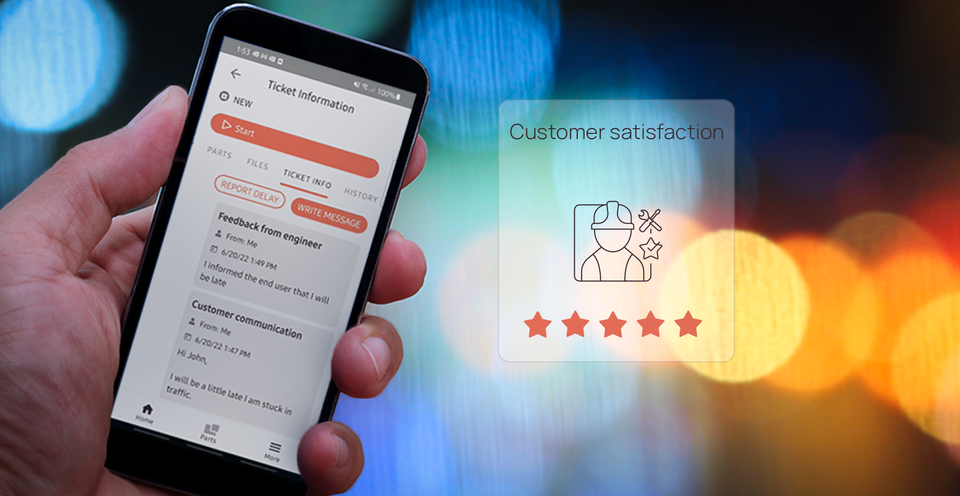 2. Quick resolution
3. Notifications and increased response time
Customers want to be in control of their time and be informed. Waiting around for technicians to show up is a major inconvenience and makes customers feel that their needs have taken a back seat, especially during emergencies.
With real-time data and two-way communication, dispatchers and field teams can react swiftly to changing situations by optimizing schedules, and routes, resulting in shorter appointment times for customers. Within the mobile solution, a technician can update their status, see estimated arrival times, and use direct navigation to customer locations ensuring on-time visits.
Technicians can access up-to-date schedules and alerts, all within their mobile app, giving them the power to instantly communicate with dispatchers when there's an unexpected delay or when an unexpected issue arises. Customers affected can be notified of any delays with the technician's location and estimated time of arrival, or dispatchers can send a mobile notification assigning another qualified technician quickly to the site. Real-time updates sent to the technician's mobile app mean less confusion and instant access to information that helps them nurture client relationships.
4. Transparency and accuracy
Customers take pride in knowing what they pay. Armed with the right mobile solution, technicians can quickly and accurately collect data such as inspection information, photos, and customer signatures. By completing reports through a mobile solution, customers have detailed information about the service received, accurate invoicing, and justification of the service costs. Transparency and accuracy are key ingredients to minimizing customers' fears of "getting ripped off" and maintaining a successful business reputation.
Building customer loyalty means solving problems with as little effort as possible from the client's side and technicians having the information and flexibility to address unexpected onsite issues. Innovative mobile solutions help technicians avoid frustrating outcomes and make the customer's experience as painless as possible. A positive customer experience can be as simple as a technician accessing inventory parts via their mobile app and communicating to the customer that their service part will be available within the week.
Field service technicians are the doorway between a business and its customers. When given the right tools, technicians become more than just problem solvers, they become business partners boosting service efficiency and customer experience. By taking advantage of their time in front of customers and accessing key information through a mobile app, technicians can also offer additional services that would benefit both the customer and the business. Opportunities that would have been missed without a smart mobile solution.
Mobile solutions enhance customer experience by providing consistent delivery, customized services, and timely solutions to problems. Elevate and empower your field service technicians today with the Fieldcode mobile application, deliver outstanding customer service and connect with your customers.
To start implementing, create a free account here. Fieldcode has supported seamless FSM integration and mobile solutions for businesses around the world.
Or schedule a personalized demo session, customized to meet your organization's specific needs, and see how implementing Fieldcode can advance your mobile workforce, help optimize your organization's field operations and deliver superior service.