Data-driven workforce forecasting and planning provide perspective for business growth
Any organization must find the right balance between demand and resources. In a highly complex and dynamic business environment, it might be hard to even identify and forecast the upcoming demand which easily leads to overstaffing or lack of resources impacting service levels and customer satisfaction. Hence it is important to get ahead and know what challenges you will be facing tomorrow.
Proactive workforce planning is not a novel practice. For years, many employers have compiled data for human resources supply and demand that helped them ascertain vacancy volume and the skillset needed in the months to come. This process, however, often resulted in tedious and miswritten reports that never got used. Since then, business operations have changed swiftly; they are less predictable. On top of that, they are influenced by globalization, changing demographics, and other factors that challenge companies against maintaining skilled personnel.
Having a competitive workforce is critical in maintaining a profitable field service business, especially in sectors with labor shortages such as health care, construction, energy, and manufacturing. Yet, the inability to track the changes in demand in real-time causes ad-hoc overtime hours and higher staffing costs. At the same time, the lack of visibility in future training and hiring needs leads to hiring resources based on "rough estimates" without taking into consideration key criteria.
With a smart forecasting and proactive planning system in place, enterprises can secure significant long-term wins since they avoid making costly staffing decisions due to reactive resource planning and data being spread in different tools.

Business intelligence (BI) Forecasting technology – the key step for a proactive planning approach
Organizations that invest in BI forecasting technology can support predictive supply analytics, perform bottom-up demand planning, assess and solve supply and demand gaps in the field thanks to:
features that allow integration of the company's BI solution with visualization templates and real-time data source
ability to discover future demands and make intelligent staffing decisions based on criteria such as available resources, skills, work zones, work type, and service level obligations
ability to react more effectively to unpredictable/emerging issues
ability to trend weekly forecasts vs actuals with optimal accuracy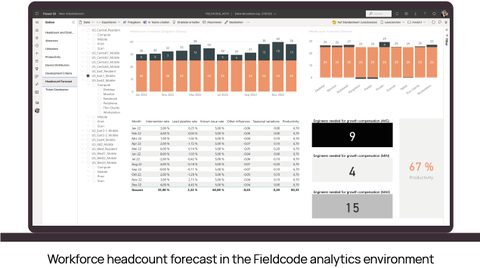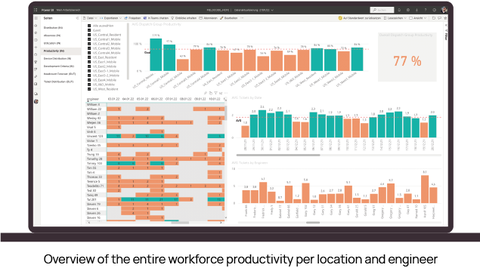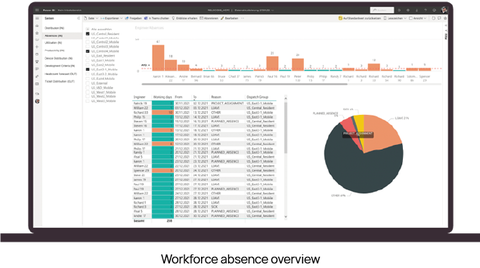 Comprehensive analytics provide easy-to-recognize trends
In the case of a field service company, the permanent engineers and their partner network must be connected through the field service solution in order to route tickets and monitor the ticket handling for their entire delivery setup. That way, the company can empower its combined workforce by boosting productivity and ultimately achieve increased utilization.
Any business looking to maximize existing resource utilization can accomplish that thanks to proactive forecasting. Statistical analysis with machine learning gives the opportunity to gather complex analytics of field employee demographics, workplace conditions, external conditions, and employer actions. These insights, such as identifying individuals who are at the highest risk for turnover, can give a company a clear indication of future gaps in their workforce without major business disruptions.
To conclude, businesses can optimize their staffing levels and eliminate miscalculated labor budgets with BI forecasting paired with field service software under their belt. Automation technology is an essential component of demand planning, internal supply analyses, and gap analyses related to field service personnel as it provides real-time financial and accurate demand predictions.
Our team at Fieldcode can help with workforce planning and forecasting success. Request a demo for more information about our corporate performance management tools.