Achieving role-specific KPIs with Field Service Management software
The best and most successful strategic plans include key performance indicators (KPIs). KPIs are essential for any field service company if the information is tracked and used correctly. Tracking KPIs keeps a field service business on target with its goals and delivers the service customers desire and expect. If not monitored, it's impossible to understand business progress and what must be done to achieve business objectives.
With field service management (FSM) software, companies can utilize this tool to its full potential by tracking KPIs and achieving business goals such as optimizing productivity, enhancing customer satisfaction, and increasing profit.
Measuring KPIs within all three field service roles: dispatchers or schedulers, field service managers, and technicians or subcontractors is the starting point to leading your field service business towards growth.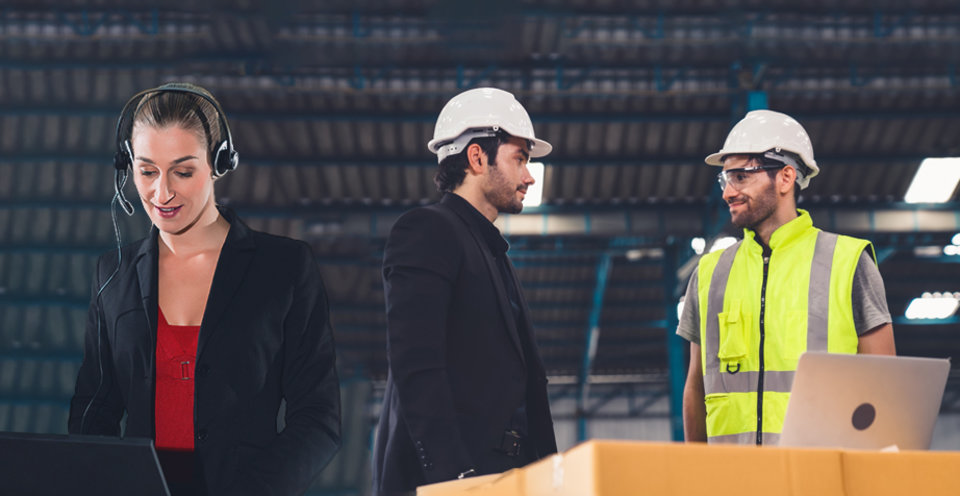 Time to first contact
Travel time
How long a technician takes to reach the client's site is crucial to any field service business. Customer satisfaction will take a hit if customers are left waiting, but also an indicator of other hidden issues. Technicians might be located far away or too many jobs are being added to the schedule.
A centralized scheduling software assigns and automatically dispatches the most qualified and closest technician to the job. With real-time data and two-way communication, dispatchers and field teams can react swiftly to changing situations by optimizing schedules, and routes, resulting in shorter appointment times for customers.
When dealing with last-minute jobs, customers affected can be notified of any delays with the technician's location and estimated time of arrival, or dispatchers can send a mobile notification assigning another qualified technician quickly to the site.
Number of phone calls
More specifically, measuring the average number of phone calls between dispatcher and technician can indicate poor communication or not giving the right information to technicians resulting in time lost due to additional communication and increased service delays.
FSM enhances communication processes. Up-to-date information such as job information, customer information, and service history are all linked to work orders ensuring technicians are equipped with the right information. Real-time updates sent to the technician's mobile app mean less confusion, and dispatchers can view critical tickets, ticket volume, and daily progress via the analytics dashboard.
KPIs for field service managers
Average work orders closed per day
Measuring the average work orders closed per day allows businesses to understand issues related to work orders, scheduling, and workforce productivity.
To ensure greater productivity and increase customer satisfaction, FSM software automates and streamlines your scheduling and dispatching processes and significantly improves your field workforce management by favoring idle resources and minimizing the usage of overtime hours.
Response time to complete work orders
Measuring this KPI shows the average time it takes to resolve issues. A poor response time could indicate scheduling or traveling issues, workers are underutilized or lack knowledge.
There are many ways to improve and speed up the process with FSM software and ensure work is completed within the expected time frame. Two-way communication between dispatchers and technicians, optimal route planning, scheduling the right technician with the right skills, and access to up-to-date information will enhance operations, productivity, and service delivery.
Schedule adherence
This KPI gives insight into whether field technicians arrive on time at customer sites. Comparing the scheduled start time with how many minutes after the field technician arrives onsite could indicate scheduling and route issues or unrealistic time allocations for each job.
With optimized scheduling, route planning, estimated arrival time notifications, and direct navigation feature to customer locations, field teams ensure on-time visits and meet customers' scheduling expectations.
Average distance traveled
Schedules must be well-planned and balanced in terms of distance between each onsite job otherwise, productivity, resource utilization, customer service, and customer retention will quickly diminish.
Unexpected changes are automatically updated in technicians' schedules and alerted via their mobile app. Real-time updates sent to the technician's mobile app mean less confusion.
Zero-touch scheduling assigns optimized planned routes to technicians based on mileage, worktime, SLA compliance, and real-time traffic data. Saving time for employees, reducing vehicle wear, reducing fuel costs, improving arrival times, and increasing customer satisfaction.
Completed vs. invoiced jobs
Comparing the completed job ratio with the invoiced job ratio is an effective way to track lost revenue.
FSM eliminates delayed billings and reclaims lost revenue with invoice automation and accurate invoicing. With mobile technology, field service technicians can issue on-the-spot invoices and receive online payments ensuring payments are received quickly.
KPIs for field service technicians & subcontractors
Field visits per field technician
The number of field service technician visits per day identifies employee productivity and gives insight into resource management and workforce forecasting.
Optimized scheduling keeps track of internal and external resources and dispatches tickets automatically based on skills and availability. Automated scheduling increases resource utilization and optimizes job scheduling by favoring idle resources and minimizing the usage of overtime hours.
First-time fix rates
First-time visit success rate impacts how a field service business progresses with productivity, profitability, and customer retention. An unsatisfactory rate would indicate that a job was incorrectly done the first time around.
Centralized scheduling software guarantees and assigns the right technician with the right skill set to the job. Arming field technicians and subcontracting partners with mobile applications allows access to customer requirements, inventory parts, work history, and instruction guides which improves the first-time fix rate
Engineer billable time
This KPI compares field technician's utilization with actual billable time. Non-billable time can be things such as technicians driving to jobs, waiting for spare parts, or administrative tasks, all of which cost money to any business.
FSM can bring balance and minimize such costs. Optimized route planning ensures less time spent on driving to and from sites. Access to inventory levels ensures field technician schedules are optimized once the right equipment is available and data is entered via the mobile app in a reporting form and synchronized upon completion, which reduces administrative work and redundant data entry.
Tracking KPIs and how that information is used are key factors to maintaining and growing a successful field service business. Using outdated systems and manual tools will only limit business growth and efficiency.
Fieldcode has supported seamless FSM integration for businesses around the world. Offering a robust FSM solution to help track KPIs and streamline field service operations. To start implementing, create a free account here. Save up to 75% on dispatching efforts, boost productivity by 50% and deliver outstanding service.
Or schedule a personalized demo session, customized to meet your organization's specific needs, and see how implementing Fieldcode can help optimize your organization's field operations.