Finding the right software:
3 Reasons why freemium is better than demos or trials
Finding the right software that fits your needs and your organization can be tiring. There are multiple requirements and demands for the right solution. This task can be even more complex for Field Service Management software. Most buyer's needs are very individual and finding a software that fulfills all specs often includes some in-depth research to find a solution that prioritizes all their needs in addition to cutting cost and help them work more sustainably.
In most cases, buyers usually go through the same search and onboarding journey. This standard journey usually includes filling in several demo forms, waiting for a sales rep to reach out, and narrowing down a list of potential software vendors based on features, capabilities, and integrations. Once the buyer is comfortable with a potential vendor, it takes time and investment for them to go through different stages of trials and testing.
However, not all buyers have to experience this exact journey. There are easier ways for potential buyers or decision makers to test new software on the spot without going through these lengthy and time-consuming stages that are also often stressful due to a limited time or limited feature usage within the software during the trial phase.
Here are three reasons why freemium software can provide several benefits compared to signing up for demos, trials or conducting screenings.
1) You can try freemium software right away
Sometimes buyers would prefer to see the software without jumping on a sales call first. According to HubSpot State of Marketing 2020 report, only 29% of buyers want to talk to a salesperson to learn more about a product! Buyers just want to download or install the software immediately without watching or listening to a demo of the product.
Having immediate access to the software or simply downloading it can be a big benefit: freemium software is often ready to deploy. This can enable buyers to decide if the product addresses their issues quickly and without pressure.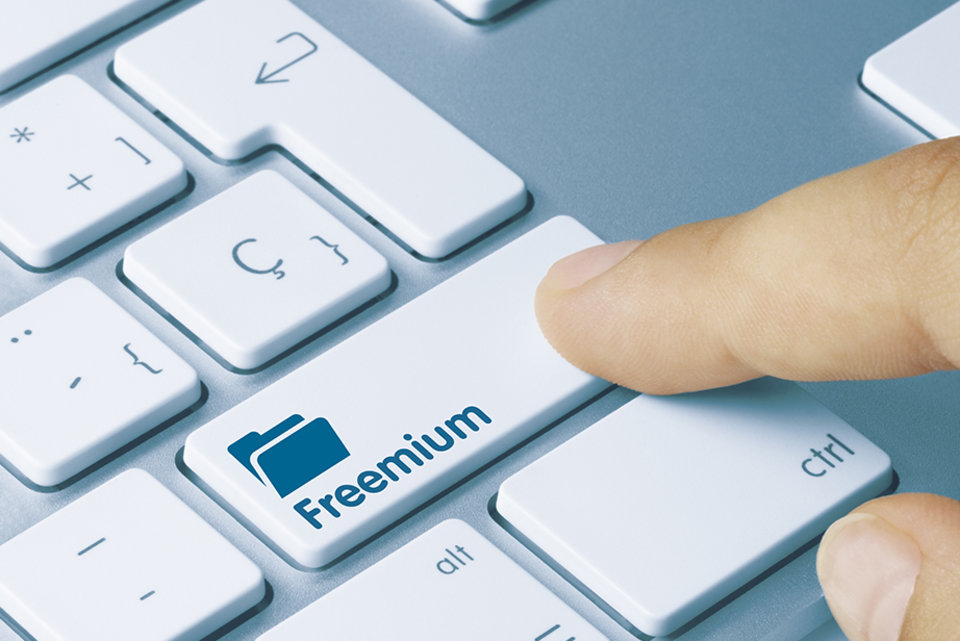 2) You can access many features without a limited trial / limited time
It's paramount to be fully transparent with all of the features upfront. Teasing features that are essential but not available during the limited trials can be discouraging for buyers.
Likewise, not all potential buyers will follow the same pace in terms of understanding and using the software. As mentioned before, limited time offers, are limiting for a reason. Potential buyers have to follow a timeline that might not work with their current needs.
Rather, having access to software that has an unlimited trial or an option that offers all features for a limited amount of users can be the best option for the customer. It may not be suitable for every business, but if a software company is willing to let users try the software at their own pace, then the buyer has more time to evaluate, test, and deploy the product. If the potential buyers' goals are achieved with real results, they will likely scale up eventually, for example by adding more users to the platform, or buying more data and space. Allowing for time to thoroughly test all features will create more confidence that the product is the right fit for a long term.
Dropbox is an excellent example of how a software company enables users to use the product 100% free of charge while still being profitable. If users need additional storage space they need to upgrade to a billable version. Hubspot is another great example of a software company that gives its users the freedom to try many features for each of their products for free for an unlimited time. If users want to use additional, more advanced features they will eventually have to upgrade to a premium version, but it allows them to try many features without a time limit or in a limited demo version.
3) You don't need to commit to a subscription plan or provide your credit card details
Asking potential buyers to input their credit card information before trying the product can be a problem as many users do not want to share this sensitive information at this stage. "Will I remember to cancel in time? Will they charge me early? Do I really even want to do this?" are questions that can sometimes prevent the user from trying the desired product.
Strict subscription plans can put a damper on a potential customer. Customers want to be in control of their spending even if they don't use the product entirely. For example, a subscription plan can lock customers in a monthly 'per user' payment model regardless of the number of dispatching events processed (when looking at the field services industry).
Rather than buying into long-term commitment subscription plans, a pay-per-event model would often suit the customer better. For example, customers who pay for their actual usage based on the number of events, in terms of field service software, will be able to better manage their spending and achieve more transparency and flexibility, when compared to strict monthly fees. Given today's financial circumstances, customers can feel more at ease if they can better control the amount and time they commit to when purchasing a new software and often even cutting cost in the process.
Freemium, demos or trials - finding the right option can save time and cut cost
The whole process of a buyer's journey from researching and testing, to downloading and comparing different software products can be extensive and sometimes downright exhausting. Buyers that need a transparent, easy-to-deploy software can benefit on a large scale with new freemium software models. While some industries have started to implement these models on a larger scale there is still a lot of room for innovation and a more customer friendly approach to guide users along the path from test and trial to a satisfied customer.