Reduce costs with effortless dispatching
Increase effectiveness and reduce your manual workload.
Automate, organize and manage schedule and dispatch activities effortlessly in real-time. Increase service effectiveness and reduce operational costs with the Fieldcode Optimizer. Based on AI-driven procedures, the system validates incoming tickets, assigns them to the right technician and reduces efforts by up to 75%.
Fully guided set-up process
With our easy access wizard function you are ready for the first dispatch, instantly. A predefined best-practice set-up wizard offers a head-start from the moment you begin using Fieldcode.
With minimal time for configuration, you make Fieldcode your customized software in no time.
Display all delivery layers in a single view
Achieve more transparency for all levels of your service network in just one view. The comprehensive overview of all tickets enables you to meet your KPIs and reach performance driven results, whether you deliver services with your own team, through assigned service providers or their partners.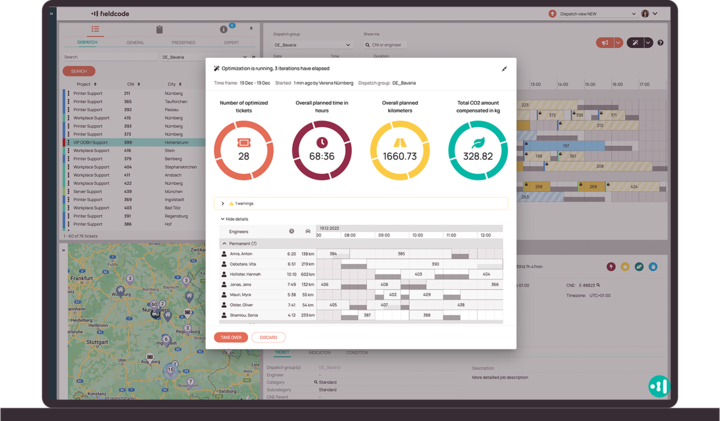 Fully automated route planning
Dispatch your tickets automatically based on preset rules and capacity, like skills and availability. Aligned with your constraints and priorities, the scheduling assistant helps to meet your individual targets and needs. For optimal planning the system also uses public data, like traffic and congestion forecasts in addition to your predefined parameters.
Optimize your routes with AI
Automate your scheduling and dispatching processes. The Fieldcode Optimizer can save you up to 75% of your manual dispatching efforts. Improve manually planned routes based on mileage, worktime or SLA compliance. Increase resource utilization and optimize your job scheduling by favoring idle resources and minimizing the usage of overtime hours